In a project you can sometimes come to a point where you are looking for the answer to a very specific question or just don't know what to do anymore. There is a good chance that someone else somewhere in the world has already asked the same question. Over the years, a huge pool of knowledge has accumulated in online discussion forums that can be used for your own purposes. The following blog post deals with the discussion forums on the subject of irrigation and the extent to which they are recommended.
Below is a short sample excerpt of topics as they occur in irrigation forums:
How to water a small rectangular front yard?
Hunter Pro Sprays don't pop up out of the ground!
Disc filter before or after the solenoid valves?
How to place Hunter MP Rotator correctly?
Rainbird 3500 pop-up sprinkler lick!
It is also possible to read the existing articles in all the forums listed below without registering. In order to actively post a new post or reply to existing posts in a forum, however, prior registration is required. To get a first overview, you can simply look around the forum and read up on topics that sound interesting. The more extensive the forum is, the more important it is to use the search function in a targeted manner. To do this, one thinks about one or two keywords that fit the topic in question and then searches for articles in which these keywords appear.
According to my research, the world's largest forum on the subject of irrigation. With over 12,000 topics and 250,000 posts. The forum has probably been online since at least the year 2000, the oldest topics date from that time. The large number of answers that are available on many topics is remarkable. Despite the large number of topics, there is no categorization in the forum. It is advisable to use the search function here.
According to their own statements, the forum is not aimed at private users but at irrigation professionals. Although do-it-yourselfers are not excluded and can read all of the existing articles, they shouldn't expect beginner's questions to be answered. This is not consistent with the purpose of the forum, which is the ongoing training and improvement of the skills of professionals.
A special feature is a separate Rain Bird thread with an enormous 2,100 replies. In this, a Rain Bird employee has been answering specific questions from professionals for years. Very interesting to read and a great collection of knowledge about Rain Bird with reliable official answers. Rain Bird also acts as a sponsor of the site.
Link: LawnSite
Screenshot from LawnSite Forum: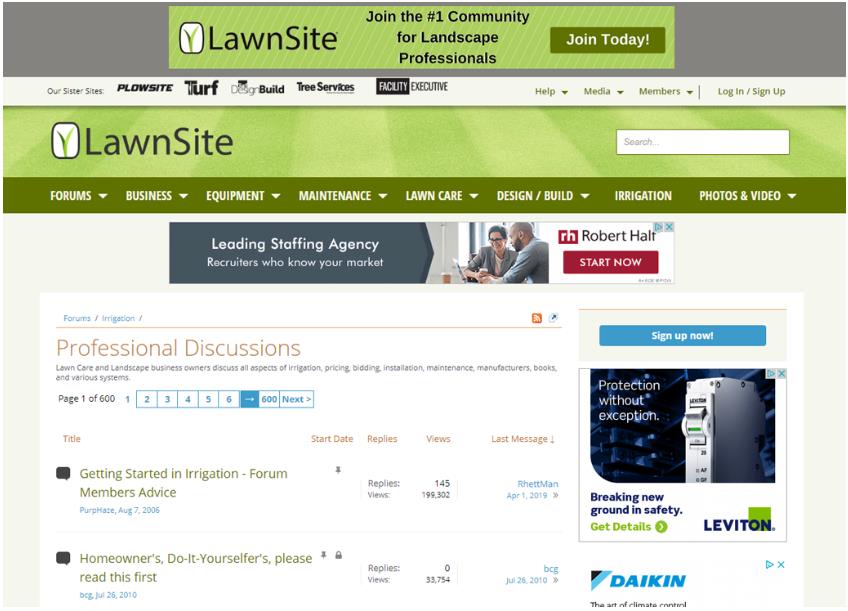 With over 7,000 topics, 30,000 posts and almost 13,000 registered members, it is also a giant forum; the oldest posts date back to 2002. The information is divided into numerous subcategories, which is advantageous for the user due to the large scope, since one can search specifically in a specific category. A lot is happening in categories such as planning or control and there are many postings, in other categories such as e.g. fertilizing (in combination with irrigation) the last topic contribution can already be a few months old.
The US company Sprinkler Warehouse, a US full-service provider of irrigation products, is behind the forum. In my opinion, this is not noticed negatively in the forum. Of course, there are popular links to the company website, but otherwise I would not have noticed any (negative) influence on the content.
Link: Sprinker Talk Forum
Screenshot from Sprinkler Talk Forum: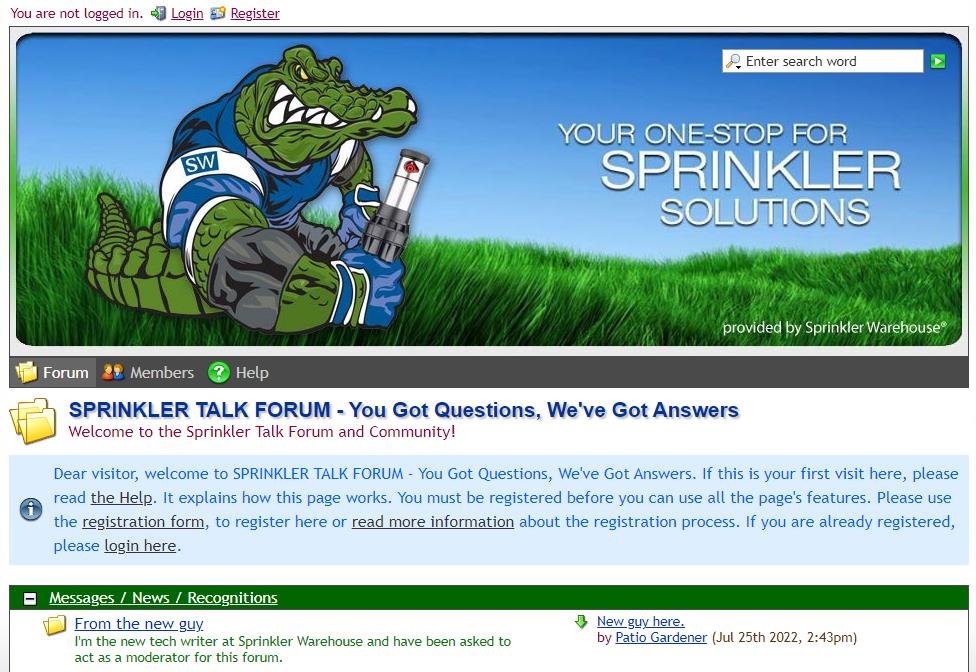 This forum has only been online since 2017, but a respectable almost 500 topics have already accumulated. Several topics are added every day and these are usually also extensively commented on.
Link: The Lawn Forum
Screenshot from The Lawn Forum: