What is this website about?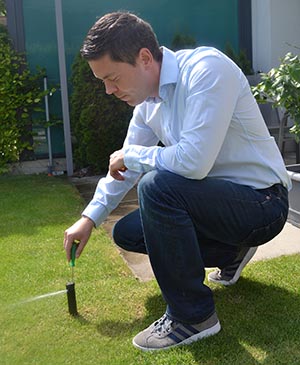 Irrigation-guide.com is an online guide for all those who are thinking of installing a home irrigation system on their own or are looking for individual answers to detailed home irrigation questions.
A few years ago I was faced with the same question: Continue to stand in the garden for hours and laboriously water the lawn and garden plants with the garden hose, or invest some time and money in the implementation of an automatic irrigation system. The decision was quickly made in favor of automatic irrigation. The biggest challenge was gathering the necessary knowledge: How do you even start, which system should you use and in which order is it best to carry out which steps? I found the necessary information laboriously and time-consuming on various websites, in online forums and in the product information of the manufacturers. As far as this was at all possible, because surprisingly little or no information was available on many details to be clarified, so that I was often only able to find out many details by the trial and error method.
My automatic home irrigation project was ultimately successful, the irrigation system has been in use for several years without any problems. Irrigation systems implemented together with friends and relatives also run to the fullest satisfaction.
The realization of an irrigation system is no book with 7 seals and also possible for the technically unsophisticated, but motivated layman – as I was back then. I don't come from the industry, nor did I ever deal with the topic before my private irrigation project. Precisely because of this, I believe that I can put myself in the shoes of the average consumer. I pass on the knowledge I have gathered and gradually expanded in the course of the project here on the website.
The information is structured in project form, from the initial information and planning, through the specific purchase decision and the assembly of the system to the final implementation of the control including programming, so that you can go through the individual stages step by step.
I would be delighted if the information offered here helps you to save time, money and effort and I wish you every success with your home irrigation project!
Johann Kodnar, webmaster
Step by step to your own home irrigation system
Advantages of a Do-it-yourself home irrigation installation:
Significantly lower installation costs (material costs only)

Automatic home irrigation becomes affordable or a significantly better system can be implemented for the same amount

Independence from professionals, you have access to every part of the system and all operating instructions are available yourself

Very low running costs, as maintenance and small maintenance work can be carried out by yourself

By dealing with the matter you develop an understanding of how it works

Problem-free subsequent expansion / adaptation
Myths and facts about home irrigation
If everything is wet, then the irrigation works
Johann Kodnar
2021-11-07T21:21:17+01:00
Unfortunately, it is not that simple in practice. Even if the lawn is consistently moist after watering, that doesn't mean you've done everything right. The magic word is "even watering", meaning that all areas receive the same amount of water at the same time. Otherwise it can happen that some areas become brown due to a lack of water, or that some areas get too much water and you continually waste water or waterlogging occurs. The planning pages explain how to do it right.
Latest tests and comparisons